Art Detective
ART DETECTIVE

:  Reward is offered for information leading to the capture and return of a missing Pastorius Sculpture
ART INVESTIGATOR:

  Receive a certificate as an Art Investigator to honor your efforts.
Provide new information on a Pastorius Sculpture regarding:
Change of Sculpture from website Location
GPS Co-ordinates of a sculpture if not listed on this website
Condition report with action required
Graffiti
Damage or Modifications to a sculpture
BECOME A

KNIGHT OF THE ARTISTIC REALM

:
And receive a Certificate to Acknowledge your Knighthood FOR saving a damsel in distress [restoring or caring for any neglected Artwork in A Public Place].
Please Contact Us for reward or acknowledgment
---
BE A REAL ART DETECTIVE:

 
Solve the 2005 – 2007 disappearance of  "Passport"
$200 Reward Posted for proof of information:
Involving the mysterious disappearance of "Passport", a yellow and gold sculpture 28.5 feet tall [roughly 3 stories tall in front of a 4 story glass building].  The sculpture may be hiding, disguised in a Sony Blue coat.
$1,000 Reward posted leading to its recovery:
Missing from Amberdon Plaza, Irvine, California,
Original Location: 1833 Alton Parkway, Irvine, Ca.
Developer:  Equidon Investment Builders.
Architect:  George Seitz.
Installation date:  16 March,1984.
Records indicate LEGACY PARTNERS COMMERCIAL, INC. [whose name changed to SteelWav in 2015] purchased the property in 2011
HINES, a real estate investment firm, purchased the property in 2011
---
Solve the disappearance of  3 eagles,  "Eagles' Flight"
$200 Reward Posted for proof of information:
Provide the proof of the story regarding the final resting place of "Eagles Flight" missing from the planned industrial development at "Phoenix Northgate".
Helpful hint: start by googling, "The Mystery of Phoenix Northgate" and follow their blog: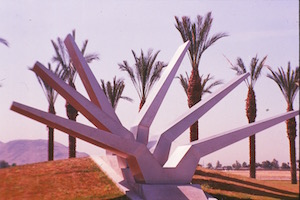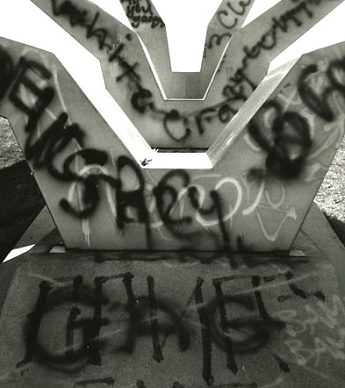 <— Condition: in 1988 at installation
Condition in 1994 from Inventories Catalog Smithsonian American Art Museum     —>
Control # IAS AZ000417
$2,000 Reward leading to the recovery of intact sculptures
Condition in 2003; weld broken on right wing lower eagle, stencilled graffiti on wing stating "Skateboarding is not a crime"
Survey "Save Outdoor Sculpture, Arizona survey, 1994.
TOPIC / category of the sculpture; Allegory-Arts & Sciences-Flight Animal-Bird-Eagle
CONTROL NUMBER: IAS AZ000417
DATA SOURCE: Art Inventories Catalog, Smithsonian American Art Museums, 1994
LAST VERIFIED SIGHTING: "Eagles Flight"and "Eagles Nest": March 2003,
NOTE: Stencilled grafitti "skateboarding is not a crime", yet wings had broken welds
WESTERN SAVINGS: had 99 year ground lease at time of installation.
City of Phenix received and reviewed entitlements / permissions secured
Hal had submitted licensed structural engineering calculations
PHOENIX NORTHGATE: a 283 acre project by Jonel Properties Co.
Location: Off Bell Road and I-17, at 21 St Street and Grandview Road.
Size: 16 feet tall x 28 feet wide and 20 feet deep and weighs 6,000 lbs.
---
Solve the disappearance of 3 fountains, "Eagles' Nest"
$100 REWARD for the story AND name of the person or persons responsible for the loss of this Triptych of 3 Fountains "Eagles' Nest". Were these eagles flying to their nest in the three fountains?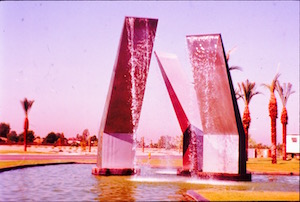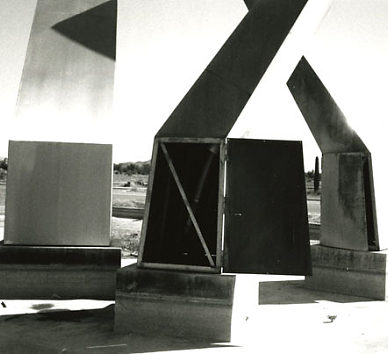 <—  1988 condition at installation
2003 condition at visual inspection: doors pried open, pumps gone, some hold down bolts removed   —->
The falling water could be heard over the entire planned industrial park with falling water mirrored in the SS by day and dramatically illuminated by night. With the volume of water and a fall of over 25', negative ions charged the air like a natural waterfall with the exhilarating effect of a natural waterfall.
Size: various heights;  21 feet, 22 feet, and 24.5 feet;  with bases of  6 feet by 4 feet.
Weight: 11,000 lbs.
Prior Location: Phoenix, Arizona, 21 St Street and Grandview Road.
The North Phoenix blog shows most of the story
US Government General Services indicated graffiti should be removed as soon as practical as "graffiti tends to collect more graffiti", apparently vandalism has the same effect.